PVC Edge Banding Extrusion Line
FLD45/25, FLD50/25, FLD55/25, FLD65/25, FLD75/25
5.5KW/7.5KW, 7.5KW/11KW, 11kw/15KW, 18.5KW/22KW, 30KW/37KW
FLD series single screw extruders are the ideal solution to meet your requirements to use PVC granules to make high-end PVC edge banding tape and easy to operate the granules with stable extrusion.
PVC Edge Banding Extrusion Machine
Fanlyplas new generation of screw design, high torque gearbox and reasonable compressing ratio Die can process PVC pellet/granules to reach high quality products which obtain better properties during product applied in furniture edge sealing.
1.PVC edge banding extrusion line is mainly used in the production PVC edge banding strip/tape, which is widely applied for decoration of furniture, kitchen ware, office, etc.
2. It is also suitable for producing colored PVC edge banding, like wood grain and other patterns by using printing machine
3. Output cavities : 2 cavities, 4 cavities, 6 cavities,8 cavities.
Width 17mm-54mm, thickness 0.4-2mm.
The process of the Fanlyplas PVC edge banding line as follows.
First step: Color mixing-material mixing- to get PVC compounds
Second step: Granulating process-to get PVC granule/pellet
Third step: Hopper loader+ Single screw extrusion+ mold+ embossing+ water cooling+ primer coating+ haul off +winder- to get PVC edge band tape(single color)
Forth step: Printing+ Packaging
Mixer

Granulator

Loader

Single Screw Extruder

Mould

Water tank

Primer coating and drying

Haul off

Winder

Printing

Winder
Send me your demands, we will send back detailed machine specifications with working video.
We send detailed machine quotation to you, if you are satisfied, we will make PROFORMA INVOICE for you. Payment terms: T/T, L/C, TRADE ASSURANCE .
Yes, we have many customers near our factory .we can take you to see the machine operation.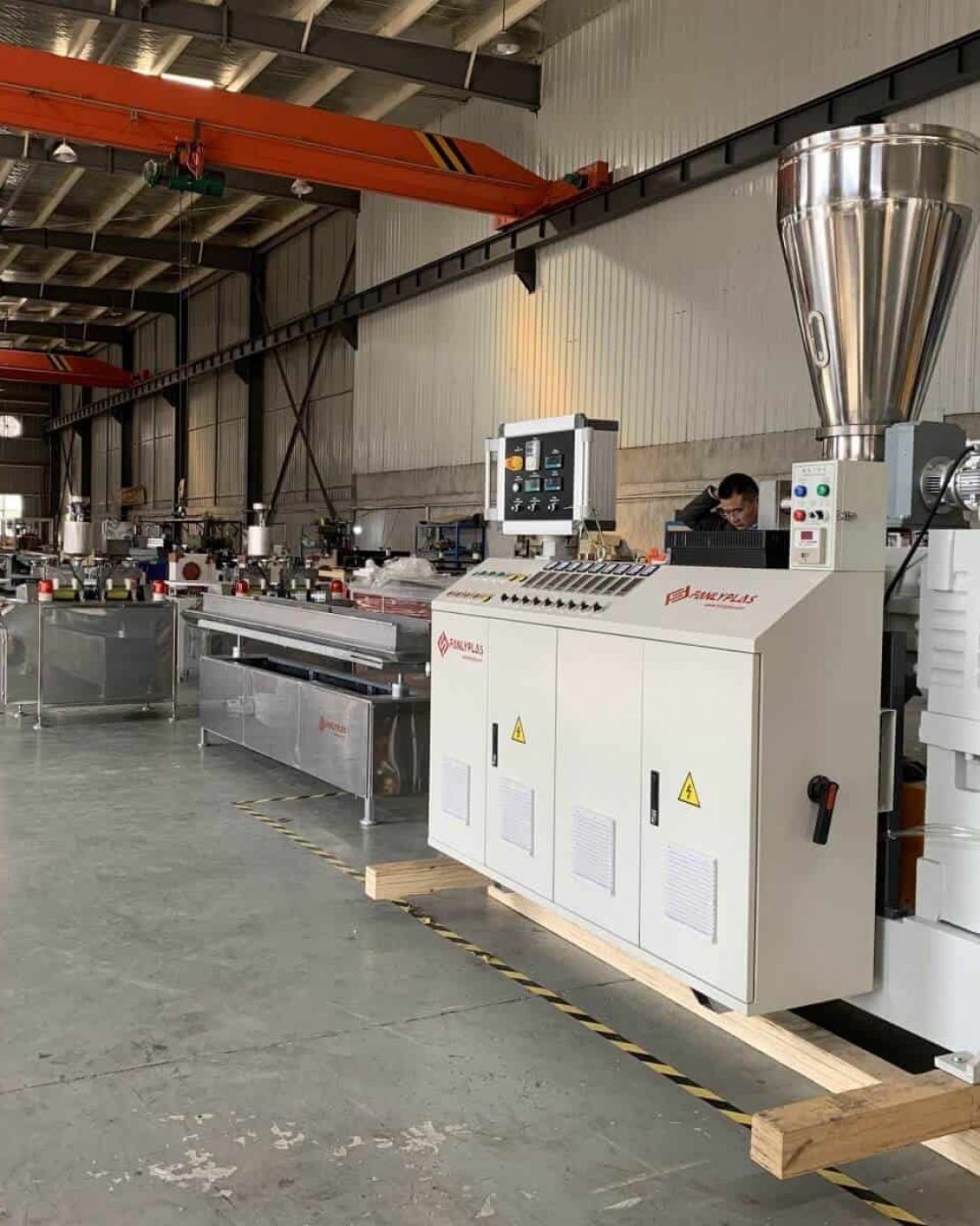 Get Extrusion Solutions Or Service Today?
Just leave your question & you are done. You will get back in shortest possible time. We will provide you with free plans and quotations.